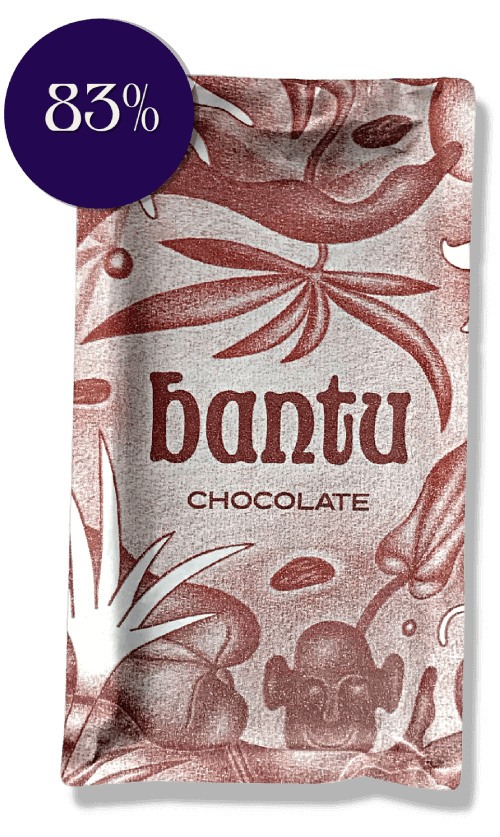 Seed to Bar Chocolates
Voodoo 83%
All Natural

Dairy-free

Gluten-Free

No Lecithin

Vegan
Intense dark chocolate with berry and toffee notes
Voodoo 83% is our most intense dark bean-to-bar chocolate.
Made with only high-quality ingredients, this dark yummy bar is mouth-wateringly addictive.
We start with the highest bean concentration to pack it with theobromine. Then we add raw sugar and cocoa butter for yumminess.
Along with the berry notes, the dark intense cocoa flavour gives Voodoo 83% a strong cocoa character.
With an appealing bitterness, Voodoo 83% Bean-to-Bar Chocolate is the perfect choice for a delicious bittersweet experience of healthy single origin chocolate.
The darker color means more beans, which means more theobromine, which is what gives our chocolate its deep and rich berry flavour.
From your tongue through your throat to your stomach, our bar releases an intense sensation of relaxation and well-being.
That's because chocolate can also increase serotonin levels, leading to a general feeling of happiness and well-being.
As always, from our farm to your taste buds, enjoy our ethical chocolate bars. Single origin chocolate from slave-free cocoa. Every bite you indulge helps us provide a living wage to our African cocoa farm workers.
To remind us that we are all connected to this Earth and its resources, each bar comes plastic-free, wrapped in a biodegradable pouch. We also use resealable and recyclable paper packaging made from FSC-certified paper.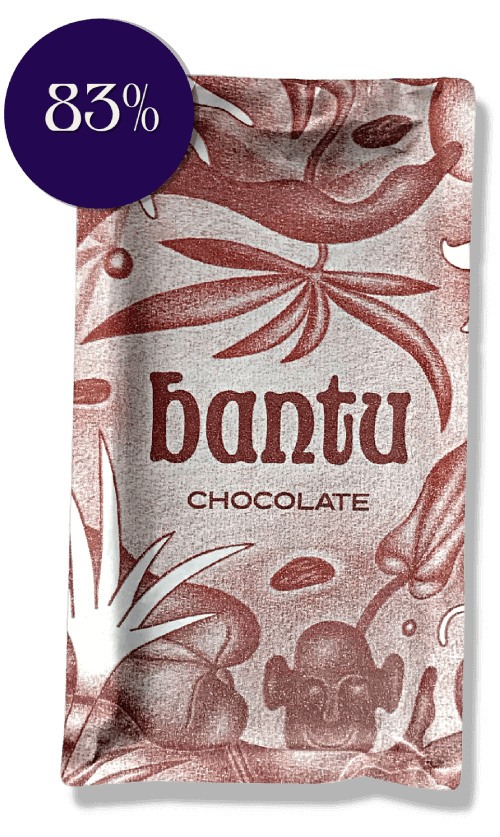 £

8.00
—

or

£

7.50

/ month

70 g per product

Free shipping in British on order over £ 25
Select up to 3 bars to receive in your monthly shipment
15% off all orders
Free shipping on all orders

From September 2022
Expect super limited and exclusive flavors and innovative small chocolate batches launched just for you and delivered to your doorstep every month along with product discounts!
Voodoo 83%
£8.00 — or £7.50 / month
Out of stock
Prices for comparison use only
Cocoa beans commodity price – £ 1.65
Slavery Free cocoa beans price – £1.62
Fairtrade cocoa beans price – £1.81
Bantu Chocolate Estate cocoa beans price – £5.10
Price Listed are for September 2021 and based on 1kg of cocoa beans. Transport and duties not included.
True cost
LABOR (U.K)

£2.85

INGREDIENTS

£0.70

PACKAGING

£3.00

VAT

£1.63

Total

£8.29
Nutrition
FactsPer
100g
Energy

2192kJ/556kcal

Fat

38g

Carbohydrates

38.84g

of which Sugars

27.5g

Fiber

12g

Protein

9g

Sodium

0
INGREDIENTS
Cocoa beans, cocoa butter*, coconut sugar blossom*
*Certified Organic